WOMEN'S BIBLE STUDIES

Our women's bible study groups are designed as a time for women to gather in fellowship to deepen their relationship with God and their relationship with each other. They encourage, comfort, and build each other up as they study and discuss His Word in depth and pray for the needs of one another. The weekly bible studies will instruct women with spiritual and practical wisdom to equip them to evidence the virtues that mark the Proverbs 31 woman so that they may glorify God in their daily lives and so that their inner beauty would be a dynamic witness for the faith.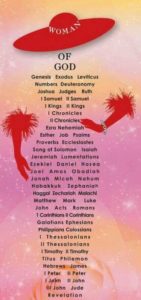 Thursday afternoons from 9:00-11:00 a.m.
JONAH — RELENTLESS GRACE
by Grace Bible Church (College Station, TX)
Most people remember the Old Testament book of Jonah as a story about a big fish, but it's really a story about our big God. In just a few short chapters, the book of Jonah demonstrates God's power overall things, His love for all people, and His relentless grace and mercy. Jonah's story shows us a God who will stop at nothing in order to save even those farthest from Him.
This study of Jonah will guide you to:
Connect in authentic community as you and your group share the joys and struggles of life–praying together for big things.
Grow in biblical truth by searching the scripture and actively applying this truth to your life.
Engage joyfully in helping people find and follow Jesu by practicing simple discipleship tools that tune your heart to those who are far from God.