WOMEN'S BIBLE STUDIES
Our women's bible study groups are designed as a time for women to gather in fellowship to

deepen their relationship with God and their relationship with each other. They encourage, comfort, and build each other up as they study and discuss His Word in depth and pray for the needs of one another. The weekly bible studies will instruct women with spiritual and practical wisdom to equip them to evidence the virtues that mark the Proverbs 31 woman so that they may glorify God in their daily lives and so that their inner beauty would be a dynamic witness for the faith.
"PARABLES — THE MYSTERIES OF GOD'S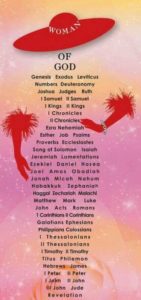 KINGDOM REVEALED THROUGH THE
STORIES JESUS TOLD" BY JOHN MacArthur
Thursday mornings from 10:00-11:30 a.m.
In this study, you will look at the context that motivated Jesus to teach in parables and then explore 21 parables in the gospels to see what they teach. You will analyze each parable and one or two Scripture passages connected to the main theme of the lesson. You will be challenged to reconsider any thoughts or attitudes you have that might be inconsistent with the Bible. You will explore the key points and draw some conclusion about how the parables you just examined related to your day-to-day life. And finally, there will be a couple of questions about living the parable that invites you to pull together what you have studied and identify the primary insight you want to integrate into your life in a practical way.