WOMEN'S BIBLE STUDIES

Our women's bible study groups are designed as a time for women to gather in fellowship to deepen their relationship with God and their relationship with each other. They encourage, comfort, and build each other up as they study and discuss His Word in depth and pray for the needs of one another. The weekly bible studies will instruct women with spiritual and practical wisdom to equip them to evidence the virtues that mark the Proverbs 31 woman so that they may glorify God in their daily lives and so that their inner beauty would be a dynamic witness for the faith.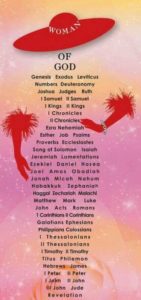 Shepherding the Sheep by Susan Heck
Wednesday Evenings from 6:30-8:30 p.m.
To Timothy, my true son in the faith," is how Paul addresses this pastoral epistle. Susan Heck's teaching is faithfully biblical and always doctrinally sound, and the study of 1 Timothy is no exception as she tackles some of the major issues for church leadership. The qualifications for leadership and the role of women in the church, how to confront older men and women who have become stagnant in their faith, the importance of being content with food and clothing, and warnings about the love of money are a few of the topics addressed in 1 Timothy.