WHAT TO EXPECT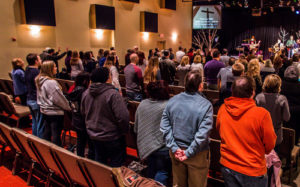 Sunday Service: 10:00 – 11:15 a.m.
We encourage people to come early to enjoy a cup of coffee and refreshments and to have the opportunity to build friendships with others.
Our worship service consists of praise music, preaching, prayer, and giving an offering. We praise God through music that is a mix of popular hymns and contemporary songs. God's Word is the sole basis for the messages prepared by our teaching pastors. As God's Word is timeless and good for rebuking, correcting, and training in righteousness, the messages are therefore relevant and practical so that people may grow in the knowledge of Christ and apply biblical principles to the issues and concerns of their everyday lives. We have times of prayer throughout the service offering our thanks and presenting our requests to God to demonstrate our trust in and reliance on Him. We close our service with an offering and song. We point out to newcomers at the Sunday service that we do not expect a financial donation. The offering is for our regular attendees and partners to participate in as an act of worship.