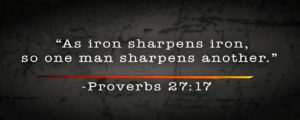 RESUMES WEDNESDAY, SEPTEMBER 6
Meeting Time: Wednesday nights from 6:30-8:30 p.m.
Luke 2:52 "And Jesus increased in wisdom and stature, and in favor with God and men."
Our men's bible study group is designed as a time for men to gather in fellowship to "grow in wisdom and in favor with God and men" through following the example of Christ. The weekly bible studies will equip men to live out their faith and glorify God throughout their day in their homes, in their workplaces, in their communities, in their churches, and beyond.
Books are available on the information table in the lobby. Please sign up if you plan to attend. If you have any questions, please contact Bill Phillips.
Strong Men in Tough Times
by Ed Cole
This study focuses on the lessons and life principles to be learned from the Book of Daniel. Daniel lived in a culture that worshipped pagan gods, and yet Daniel maintained his faithfulness to God. We also, as men of God, must "swim against the cultural tide" to maintain our integrity.
Come join other men pursuing God in a friendly, welcoming, open-discussion environment. You do not need to be a "biblical scholar"–just a man humbly desiring to pursue God.