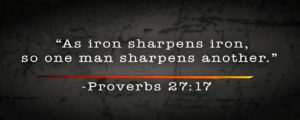 Meeting Time: Wednesday nights from 6:30-8:30 p.m.
Luke 2:52 "And Jesus increased in wisdom and stature, and in favor with God and men."
Our men's bible study group is designed as a time for men to gather in fellowship to "grow in wisdom and in favor with God and men" through following the example of Christ. The weekly bible studies will equip men to live out their faith and glorify God throughout their day in their homes, in their workplaces, in their communities, in their churches, and beyond.
Current Study:

RESPECTABLE SINS by Jerry Bridges
Whatever happened to sin?
Have we become so preoccupied with the major sins of our society that we have lost sight of our need to deal with our own, more subtle sins? Jerry Bridges addresses a dozen clusters of specific "acceptable" sins that we tend to tolerate in ourselves–such as jealousy, anger, judgmentalism, selfishness, and pride.
Jerry writes not from a height of spiritual accomplishment, but from the trenches of his own battles with sin. In his admonitions, Jerry offers a message of hope in the profound mercy of the gospel and the transforming grace of God as the means to overcome our "respectable sins."