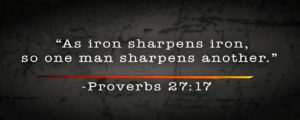 Meeting Time: Wednesday nights from 6:30-8:30 p.m.
Luke 2:52 "And Jesus increased in wisdom and stature, and in favor with God and men."
Our men's bible study group is designed as a time for men to gather in fellowship to "grow in wisdom and in favor with God and men" through following the example of Christ. The weekly bible studies will equip men to live out their faith and glorify God throughout their day in their homes, in their workplaces, in their communities, in their churches, and beyond.
The men's bible study group will resume on Wednesday evening, September 7. Books are available on the information table in the lobby. Please sign up if you plan to attend. If you have any questions, please contact Bill Phillips.
Hard to Believe — The High Cost and Infinite Value of Following Jesus
by John MacArthur
There is no user-friendly, seeker-sensitive Gospel. There is only one truth.
Let John MacArthur personally guide you deeper into the biblical truths of Hard to Believe truths that triumph over the world's false view of Christianity.
In this workbook, pastor, teacher, and best-selling author John MacArthur takes you step by step through each main idea of his insightful and sometimes shocking book Hard to Believe.
These interactive lessons reaffirm that watered-down Christianity is really no Christianity at all, and that truth faith must be defended in a cynical yet tolerant world regardless of the cost. Jesus instructs would-be Christians to deny themselves, take up their crosses daily and follow Him. It is a tremendous journey filled with pain and sacrifice, but one that ultimately leads to a joy beyond measure because the reward is eternal life.
The Hard to Believe workbook includes a six-part study guide for every chapter plus special features, including key quotations from the book, daily prayers, Bible readings, study questions, and much more.