WOMEN'S BIBLE STUDIES
Our women's bible study groups are designed

as a time for women to gather in fellowship to

deepen their relationship with God and their

relationship with each other. They encourage, comfort, and build each other up as they study and discuss His Word in depth and pray for the needs of one another. The weekly bible studies will instruct women with spiritual and practical wisdom to equip them to evidence the virtues that mark the Proverbs 31 woman so that they may glorify God in their daily lives and so that their inner beauty would be a dynamic witness for the faith.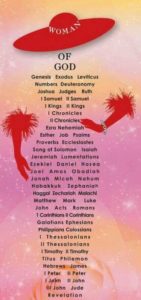 Thursday Evenings from 7-8:30 p.m.
This study will show you how the joy of living your life with Christ in front of others can be restored. You'll discover the confidence and encouragement you need to step out in faith and make disciples out of the people that God has placed in your life.
EPHESIANS by Dr. David Jeremiah
Thursday Evenings from 7-8:30 p.m
In the letter to Ephesians, Paul walks the believers through their spiritual inheritance in Christ. This inheritance moves them from death to life and into God's family–something so much better than anything they had in their former lives. Because of this, they need to "walk worthy of their calling," understand and use their spiritual gifts, and put on the armor of God."
FUNDAMENTALS OF THE FAITH by John MacArthur
Thursday Mornings from 10-11:30 a.m.
This study provides believers with a rock-solid theological foundation. It helps more mature Christians sharpen their understanding of key doctrines and equips them for evangelism and discipleship. It fosters the only kind of unity that truly means anything in the church—unity based on a shared understanding of God's truth.
Topics covered are: How to Know the Bible; God: His Character & Attributes; The Person of Jesus Christ; The Work of Christ; Salvation; The Person and Ministry of the Holy Spirit; Prayer and the Believer; The Church: Fellowship & Worship; Spiritual Gifts; Evangelism and the Believer; Obedience; God's Will & Guidance.