WOMEN'S BIBLE STUDIES

Our women's bible study groups are designed as a time for women to gather in fellowship to deepen their relationship with God and their relationship with each other. They encourage, comfort, and build each other up as they study and discuss His Word in depth and pray for the needs of one another. The weekly bible studies will instruct women with spiritual and practical wisdom to equip them to evidence the virtues that mark the Proverbs 31 woman so that they may glorify God in their daily lives and so that their inner beauty would be a dynamic witness for the faith.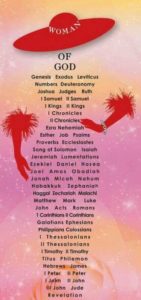 Wednesday evenings from 6:30-8:15 p.m.
Life Principles for Spiritual Warfare
by Eddie Rasnake
It seems spiritual warfare is being discussed and taught more now than at any time in recent history. Yet, much of what is being taught today about Satan and demons is erroneous and unbiblical. However, this increased attention given to the subject can be used of the Lord for good in that it can move all Christians to search out the Scriptures and determine what the Word really teaches about Satan and the Christian's response to him.
Lessons in this study include:
Understanding Satan
Satan's Methods
Dealing with Demons
The World, The Flesh, and the Devil
The Believer's Defense
The Believer's Offense
Questioning What Is Questionable in Warfare Practices